Now on the Newsstands: November/December 2016 Issue
Scroll Down for a Preview of the Upcoming January/February 2017 Issue!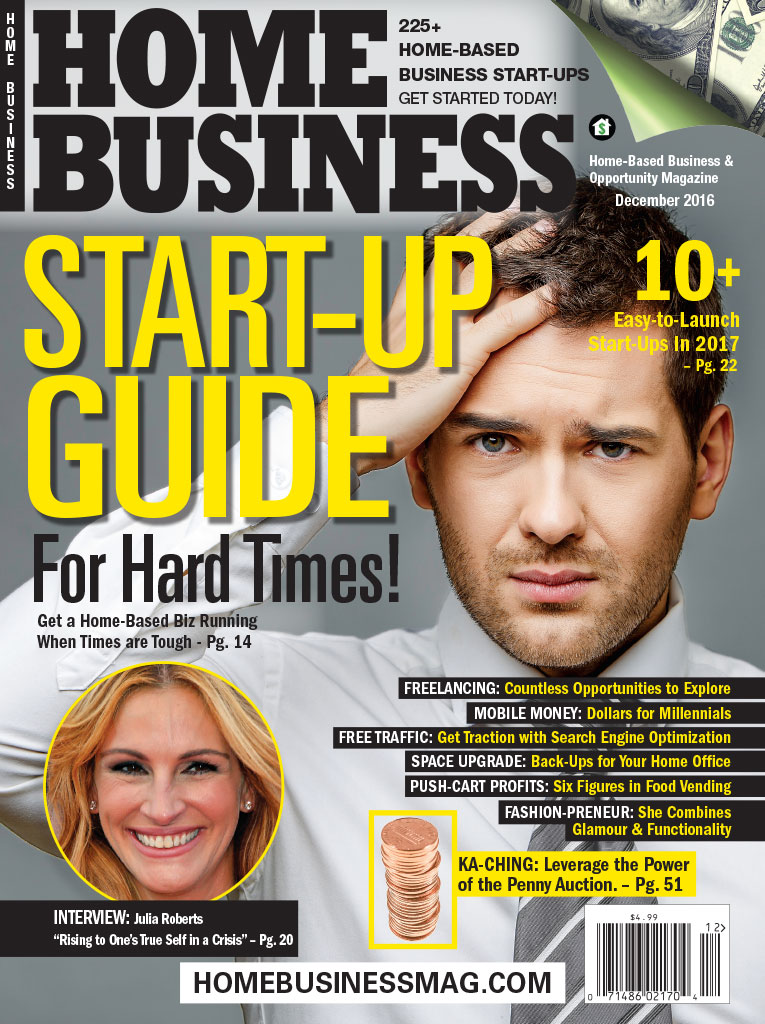 Purchase HOME BUSINESS® Magazine at a retail outlet near you – Or Subscribe!
Feature: Home Business Start-Up Guide for Hard Times! A Home-Based Business Is the Best Type of Business to Operate When Times Are Hard. Get a Biz up and running Fast!
* Interview with Julia Roberts. Actress comments on the complex financial world, rising in a crisis, choosing roles, expressing feelings, and the dangers of being indifferent.
* 10+ Easy-to-Launch Home-Based Business Start-Ups. Get Up and Running in 2017.
* Freelance Workers Who Break the Mold. Countless opportunities to explore in numerous fields.
* Internet Marketing with Key SEO Tactics. Get traction in search engines
* Professional Spaces for Home Businesses. Alternatives to foregoing the home office and renting "straight space."
* Mobile Money Management for Millennials. Don't put off saving and investing.
* Home-Based Success Stories: Fashion show producer turned necessity into a thriving business * Family tackles socks industry with knee-high no-show socks for every occasion * Fitness fanatic launches work-from-home personal training franchise * Designer creates empathy cards after finding out her friend has Lupus * Students bring exotic flavors from the Caribbean to the U.S * She provides a fresh take on Aromatherapy * Self-made multimillionaire has worked from home (online) since the age of 22!
And much more!
Preview of the January/February 2017 Issue:
Feature: Super Sales! Use The Latest Selling Tactics To Explode Your Business.  Every home-based entrepreneur can benefit from these simple steps to help you achieve more sales and profits in 2017.
And Much More!